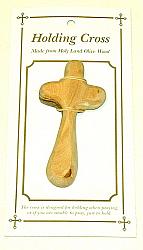 Holy Land Olive Wood Holding Cross - 3.5 inches - with prayer cardCode: S0325 Price: £10.25
Holding cross made from Holy Land olive wood, unvarnished. Dimensions: 9 x 4.5 x 1.5 cm (3.5" x 1.75" x .5"). Supplied with prayer card.


Holy Land rosary with holy soilCode: R0512 Price: £14.95Sorry, out of stock
Olive wood rosary beads, with silver-coloured links, and crucifix. The centrepiece contains soil from the Holy Land. Hand-made by Christian ...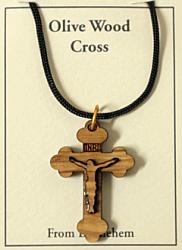 Olive wood Holy Land CrucifixCode: S0410 Price: £4.95
Hand-made olive wood crucifix, with raised corpus, made in Bethlehem in the Holy Land. 3 cm high, on cord.