Large St Benedict wall crucifix - 7.5 inchCode: S0340 Price: £45.00Sorry, out of stock
Wall-hanging St Benedict Crucifix, 7 1/2" (19 cm) metal and enamel cross incorporating St Benedict medal, with metal corpus, boxed.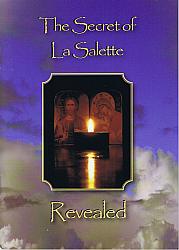 The Secret of La Salette Revealed
Val ConlonCode: B2599 Price: £5.50
The original story of the Message of La Salette, approved by Pope Pius IX, published here in modern English. It is a story and a message giving ...