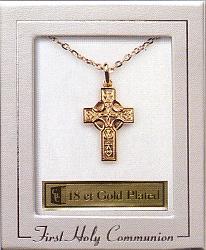 First Communion Cross - 18 ct gold platedCode: F0337 Price: £27.95
18ct gold plated Celtic cross 1 inch (2.4 cm), on 18 inch (46 cm) gold plated chain. This First Holy Communion necklace is presented in a white ...


Gold-plated brass chalice and patenCode: G0643 Price: £165.00
Solid brass chalice, gold-plated, plus gold-plated brass paten. Supplied with soft cloth bag. Height: 18.5 cm (7.25 inches).