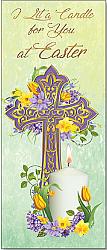 Easter Card - I Lit a Candle for You at EasterCode: E0418 Price: £2.50
Easter Cross and candle image and 'I Lit a Candle for You at Easter' on front. Inside text: I lit a Candle for you. Thoughts and Prayers are with ...


Easter Card pack - Peace be to You (Pack of 6)Code: E0118 Price: £6.50Sorry, out of stock
Pack of 6 Easter Cards. Inside Verse: ...I ascend to my Father and to your Father, to my God and your God... ...telleth the disciples: I have seen ...