Olive wood Jesus Name CrossCode: S0409 Price: £4.75 £3.50
Olive wood Jesus name cross pendant, with cord. Attractive and unusual pendant design, witnessing to the saving name of Jesus


The Jesus Prayer
A Monk of the Eastern ChurchCode: B0514 Price: £11.95Sorry, out of stock
This unique study provides the reader with both a historical and spiritual understanding of the prayer which simply invokes the name of Jesus.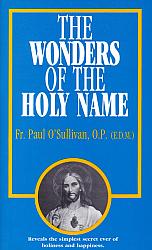 The Wonders of the Holy Name
Fr Paul O'Sullivan, O.P.Code: B0157 Price: £3.99
Urges us to invoke the name of Jesus often to obtain all God's graces. Remarkable little book!