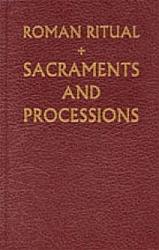 Roman Ritual Volume 1: Sacraments & Processions
Fr Philip T WellerCode: B1385 Price: £67.00
Volume I (The Sacraments and Processions) contains the complete rites for 6 of the 7 sacraments and the traditional prayers and rubrics for the ...


Talks on the Sacramentals
Msgr. Arthur TonneCode: B3151 Price: £11.95Sorry, out of stock
This 1950 book of Fr. Arthur Tonne is a goldmine of information about the sacramentals of the Roman Catholic Church. It is comprehensive and even ...


The SacramentsCode: B2806 Price: £8.95Sorry, out of stock
Originally published by the Catechetical Guild in 1955 (Imprimatur Francis Cardinal Spellman), this is a "comic" book unlike any other