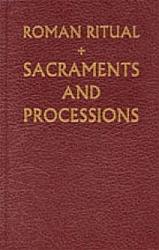 Roman Ritual Volume 1: Sacraments & Processions
Fr Philip T WellerCode: B1385 Price: £67.00
Volume I (The Sacraments and Processions) contains the complete rites for 6 of the 7 sacraments and the traditional prayers and rubrics for the ...


Shorter Roman Ritual - Rituale ParvumCode: B1671 Price: £23.95Sorry, out of stock
This book of rites and blessings is a necessary companion for all priests. The essential portable manual for priests containing the rites of the ...