Reflections: St Teresa of Avila on PrayerCode: B0878 Price: £2.50Sorry, out of stock
Fifteen reflections on prayer from the writings St Teresa of Avila. Illustrated with B&W photographs related to St Teresa, including Avila, Spain.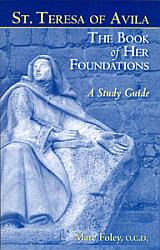 Saint Teresa of Avila: The Book of Her Foundations: A Study Guide
Marc Foley, O.C.DCode: B1856 Price: £23.95
The Book of Her Foundations is the least read, the least quoted, the least known of St. Teresa's works. Why this is so is probably because people ...