Reflections: St Teresa of Avila on PrayerCode: B0878 Price: £2.50Sorry, out of stock
Fifteen reflections on prayer from the writings St Teresa of Avila. Illustrated with B&W photographs related to St Teresa, including Avila, Spain.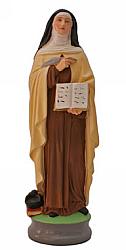 Saint Teresa of Avila Statue, 10 inch plasterCode: S0721 Price: £85.00
10" (25 cm) plaster statue of the St Teresa of Avila (Teresa of Jesus), Carmelite Saint and Doctor of the Church. Hand-made and individually ...