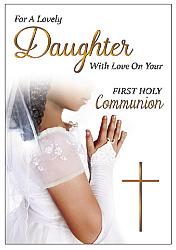 Daughter Communion Card - With LoveCode: F0376 Price: £2.50
Girl First Communion Card: 'For a Lovely Daughter, with Love On Your First Holy Communion', with cross and praying child


Daughter Confirmation CardCode: F0613 Price: £2.50Sorry, out of stock
Confirmation card for a Daughter with praying Girl with Rosary and Bishop's Mitre image. Front text: Especially for You Dear Daughter on Your ...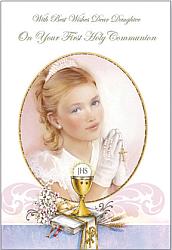 Dear Daughter First Communion Card with CrossCode: F0372 Price: £2.50
Girl First Communion Card: 'With Best Wishes Dear Daughter on Your First Holy Communion'. Inside text: May He who loves and guides us all and ...