Divorce
Jane DeeganCode: B2020 Price: £2.50Sorry, out of stock
Explaining Catholic teaching on marriage, separation and divorce. This booklet explains the Catholic understanding of marriage and why the Catholic ...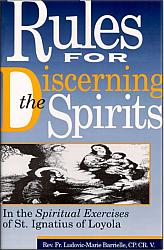 Rules for Discerning Spirits
Rev Father Ludovic-Marie Barrielle, CP. CR. V.Code: B2718 Price: £5.50
In the Spiritual Exercises of St Ignatius of Loyola. Since 1533, the spiritual exercises of Saint Ignatius have been used by millions to deepen ...