Contact Us
How to Contact Us:
By Email:

sales@cenacle.co.uk
By Post:

Cenacle House Limited
Suites 2-3
48 Westgate
Skelmersdale
Lancashire
WN8 8AZ
United Kingdom

Deliveries:
Mon-Fri 10am - 4pm .
By Telephone:
+44 (0)1695 558603
Messaging service. Note: please email us with any urgent queries. If you wish us to return your call, please leave a daytime contact number, and ORDER NUMBER if an existing order and we will get back to you in due course. Online orders will be prioritised, so please use this method, or email your query if possible.

Showroom visits and customer collections strictly by appointment - contact us by email or telephone (we will ring you back)

Trade Customers:
tradesales@cenacle.co.uk
Accounts:
accounts@cenacle.co.uk
Or contact us using our Contact Form...
Cenacle Location - Map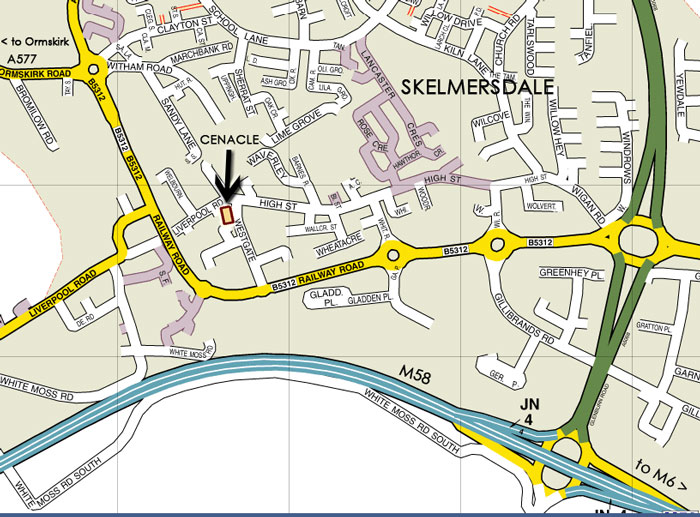 Please note: Showroom visits and customer collections strictly by appointment - directions below for courier deliveries, collections, appointments
Parking: Enter free secure car park at front of 48 Westgate - shared with Children's Play Centre, Cenacle is located in Suites 2 - 3, to the rear right hand side of the building. Please ring the bell.
Directions from M58: Exit M58 at Junction 4, head towards Skelmersdale on the A5068 (Glenburn Road), at next roundabout, turn left onto B5312 (Railway Road - Ring Road W), at next two roundabouts carry straight on, at following mini-roundabout, turn right into Westgate, continue up Westgate (passing National Tyres, then Ambulance station on your left), take first left turn, then immediately right. Entrance to large FREE fenced car park for 48 Westgate is on your right. At the front of the building is The Jungle play centre. Cenacle entrance is to the right of the building (Suite 3).
Our address: CENACLE Catholic Books and Gifts
Suites 2-3
48 Westgate, Skelmersdale
Lancashire, WN8 8AZ
United Kingdom
Head Office: Cenacle House Limited, Suites 2-3, 48 Westgate, Skelmersdale, WN8 8AZ, United Kingdom
Company No: 7119897
VAT Reg No: 983 3740 90 GB
Contact us using the form below