Christmas Crib: Origins and Tradition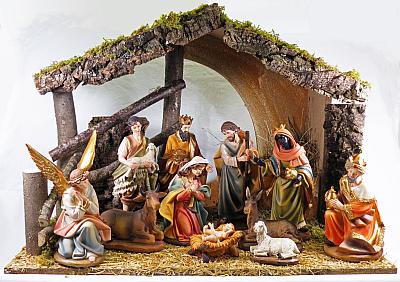 The representation of the scene of the nativity is a tradition that is almost a thousand years old. In the year 1223 St Francis decided to celebrate the feast of Christmas in a new way. His aim was to help people to better call to mind the poor surroundings in which Jesus was born and to make the wondrous event of the incarnation more real to the people of the time. In the town of Greccio, with the help of a local landowner, a nativity scene was set up with a stable, animals and straw. People came at night from the town with candles and torches to attend holy Mass by the crib and seeing the scene, be reminded of God's love for us in sending his only son to be born in the poverty of a manger.
Saint Bonaventure, Francis's biographer, said of the scene, "Many brothers and good people came at Francis's bidding, and during the night the weather also was beautiful. Many lights were kindled, songs and hymns were sung with great solemnity so that the whole wood echoed with the sound, and the man of God stood by the manger, filled with the utmost joy, and shedding tears of devotion and compassion. By his order the manger had been so arranged that Mass was celebrated on it, and blessed Francis ... sang the gospel and preached to the people on the Nativity of Christ our King, and whenever he pronounced His name with infinite tenderness he called Him the 'little Babe of Bethlehem'".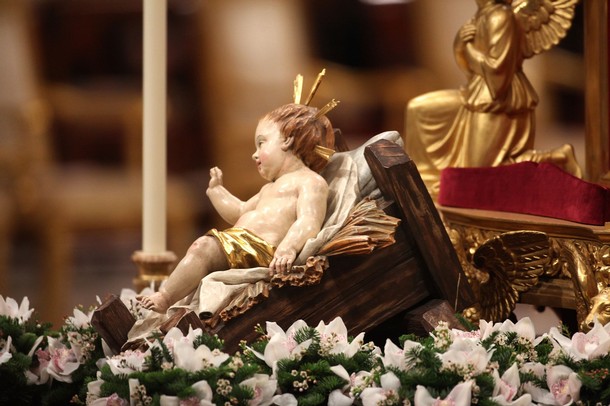 From Pope Benedict XVI Midnight Mass Homily:
'"A child is born for us, a son is given to us" (Is 9:5). What Isaiah prophesied as he gazed into the future from afar, consoling Israel amid its trials and its darkness, is now proclaimed to the shepherds as a present reality by the Angel, from whom a cloud of light streams forth: "To you is born this day in the city of David a Saviour, who is Christ the Lord" (Lk 2:11). The Lord is here. From this moment, God is truly "God with us". No longer is he the distant God who can in some way be perceived from afar, in creation and in our own consciousness. He has entered the world. He is close to us.'
In keeping with this beautiful tradition, Cenacle is delighted to offer an extensive range of Christmas Cribs, with hand-painted nativity figures from 3 inches to 24 inches, wood stables, and complete nativity sets, in resin, plaster, fibreglass and wood.