Our Lady Undoer of Knots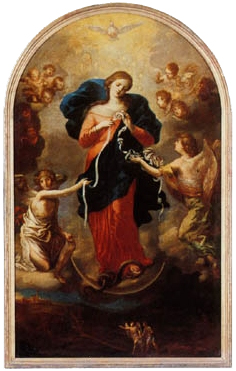 Pope Francis is well known in Argentina and Brazil for promoting devotion to Our Lady Undoer of Knots which has been a source of healing and grace for countless families. (Also known as Our Lady Untier of Knots, Virgen Desatanudos, María Knotenlöserin).
Pope Francis' devotion to Our Lady Undoer of Knots can be traced back to his time as a student in Germany when he came across the early 18th-century painting by Johann Georg Melchior Schmidtner showing Mary calmly undoing the knots in a long rope. Since 1700, the painting of Our Lady has been venerated in the Church of St. Peter in Perlack, Germany. It was originally inspired by a meditation of Saint Irenaeus (Bishop of Lyon and martyred in 202) based on the parallel made by Saint Paul between Adam and Christ. Saint Irenaeus, in turn, made a comparison between Eve and Mary, saying: "Eve, by her disobedience, tied the knot of disgrace for the human race; whereas Mary, by her obedience, undid it".
A website dedicated to Our Lady Undoer of Knots explains the significance of the knots:
"But what are these knots? They are the problems and struggles we face for which we do not see any solution. Knots of discord in your family, lack of understanding between parents and children, disrespect, violence, the knots of deep hurts between husband and wife, the absence of peace and joy at home. They are also the knots of anguish and despair of separated couples, the dissolution of the family, the knots of a drug addict son or daughter, sick or separated from home or God, knots of alcoholism, the practice of abortion, depression, unemployment, fear, solitude…Ah, the knots of our life! How they suffocate the soul, beat us down and betray the heart's joy and separate us from God.
Day after day, more and more Christians kneel to pray to Her as soon as they meet the Mother of the Fair Love. Many families have become reconciled! Many diseases have been healed! Many spouses have returned to the Church! Many jobs have been given! Many conversions have taken place! Many Catholics have been on their knees praying and giving thanks for graces received from our sweet Mother. For that reason, Mary Who undoes the knots, Who was chosen by God to crush the evil with Her feet, comes to us to reveal Herself. She comes to provide jobs, good health, to reconcile families, because She wants to undo the knots of our sins which dominate our lives, so that – as sons of the King – we can receive the promises reserved for us from eternity. She comes with promises of victory, peace, blessings and reconciliation. " - source http://www.maryundoerofknots.com
Pope Francis's Prayer to Our Lady Untier of Knots
Jorge Bergoglio brought this devotion to Argentina and composed this prayer.
Holy Mary, full of God's presence during the days of your life, you accepted with full humility the Father's will, and the Devil was never capable to tie you around with his confusion Once with your son you interceded for our difficulties, and, full of kindness and patience you gave us example of how to untie the knots of our life. And by remaining forever Our Mother, you put in order, and make more clear the ties that link us to the Lord. Holy Mother, Mother of God, and our Mother, to you, who untie with motherly heart the knots of our life, we pray to you to receive in your hands (the name of person), and to free him/her of the knots and confusion with which our enemy attacks. Through your grace, your intercession, and your example, deliver us from all evil, Our Lady, and untie the knots that prevent us from being united with God, so that we, free from sin and error, may find Him in all things, may have our hearts placed in Him, and may serve Him always in our brothers and sisters. Amen
Search for Cenacle products related to Our Lady Undoer of Knots...