St Benedict Crucifix and Medal
St Benedict Crucifix
A Saint Benedict crucifix is a crucifix incorporating a St Benedict Medal at the back and front. See below for further explanation of the St Benedict medal.
St Benedict Medal
Pope Benedict XIV established the design of the St Benedict medal, suggested by the efficacious use that the patriarch Saint Benedict, made of the sign of the cross against the assaults of the Demon, as narrated by St. Gregorio. On one side the medal carries the image of St. Benedict holding a cross in his hand; on the other side there is a larger cross with Latin initials. Due to the fact that the cross represented here is an essential element of this medal, it is called the Medal - Crucifix of St. Benedict.
On the back there is the effigy of the Saint, holding the cross in his right hand and the Rules in his left hand; on his right there is a cup from which a serpent is escaping (a recollection of the poisoned wine which he miraculously escaped); on the left we have a crow taking away the poisoned bread.
Underneath we can read the words: "EX S.M. CASINO MDCCCLXXXX" (From the Holy Mount Cassino 1880). On the two sides "CRUX SANCTI PATRIS BENEDICTI" (Cross of Holy Father Benedict). Around the image: "EIUS IN OBITU NOSTRO PRAESENTIA MUNIAMUR" (May we be strengthened by his prescence in the hour of our death!).
On the front of the Medal, a Cross is represented which carries several inscription in the arms, the explanations of which follow: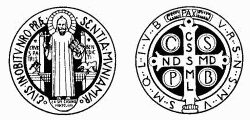 Click here for St Benedict Crucifix or Saint Benedict Medal from Cenacle