Holy Water Bottle Key chainCode: N0349 Price: £12.50Sorry, out of stock
Aluminum Holy Water Bottle Key Chain. Comes with plastic inner vial for secure storage. Holy water is a great means of repelling the devil and ...



Holy Water Sprinkler - Asperge - largeCode: G0715 Price: £55.00
Brass holy water sprinkler, with varnished wood handle. 11.5 inches (29 cm) in length.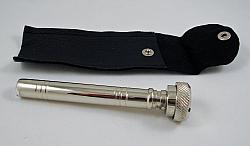 Pocket Holy Water Sprinkler - AspergeCode: G2243 Price: £49.95
Nickel-plated Brass holy water sprinkler in leather pouch. 5 inches (12.5 cm) in length.