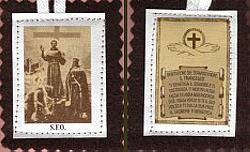 Scapular of St FrancisCode: R0225 Price: £13.95
Brown Franciscan scapular with explanatory leaflet.


Seven Dolours ScapularCode: R0934 Price: £19.95
Seven Dolours Scapular or Our Lady of Sorrows scapular. 100% black wool scapular, with strong cord. Colour images of Our Lady of Sorrows and the ...


The Green ScapularCode: R0322 Price: £1.95Sorry, out of stock
Green scapular with scalloped edges. This scapular twice approved by Pope Pius IX is known for drawing forth devotion to the Immaculate Heart of ...