Scapular FactsCode: B2348 Price: £4.50Sorry, out of stock
Many Catholics come in time to forget what they learned in their childhood about Mary's Scapular. This booklet is intended to refresh the memory ...


Seven Dolours ScapularCode: R0934 Price: £19.95
Seven Dolours Scapular or Our Lady of Sorrows scapular. 100% black wool scapular, with strong cord. Colour images of Our Lady of Sorrows and the ...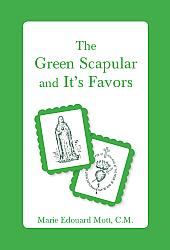 The Green Scapular and Its Favours
Marie Edouard Mott, CMCode: B3324 Price: £5.25
The work that appears today on the Green Scapular with its origin and the countless favours of which it is the instrument