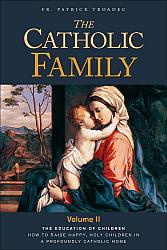 The Catholic Family - Vol II - The Education of Children
Fr Patrick TroadecCode: B3234 Price: £11.50
The Education of Children: How to raise happy, holy children in a profoundly Catholic home.
"In order to educate a child


With the Church Vol. 1
Mother Mary LoyolaCode: B2995 Price: £15.95Sorry, out of stock
Now for the first time in nearly a century, this classic set of meditations on the Liturgical Year are back in print! Written while Mother Loyola ...