Eastertide Day by Day
Fr Patrick TroadecCode: B3189 Price: £13.95
"His resurrection gives meaning to our own life. From now on, death is no longer an ending, but the entry into life, true life: that eternal life ...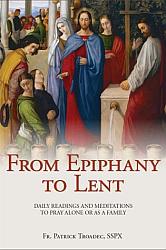 From Epiphany to Lent
Fr Patrick TroadecCode: B3166 Price: £13.95
Fr. Troadec's four-part series continues in this second book From Epiphany to Lent. The series offers a simple and practical guide for individuals ...