Adam's Deep Sleep
Fr James MawdsleyCode: B3395 Price: £10.00
The Passion of Jesus Christ Prefigured in the Old Testament. This is the first book in the New Old series, finding Jesus Christ present in the Old ...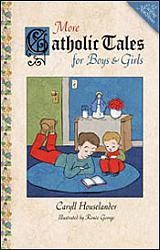 More Catholic Tales for Boys and Girls
Caryll HouselanderCode: B2164 Price: £9.50
Charming Catholic tales. Here are stories of princes and gypsies, bishops and bears - tales of Catholic boys and girls that remind us that ...