Blessed Dominic Barberi Relic Prayer CardCode: N0438 Price: £2.75Sorry, out of stock
Laminated Prayer card including Cloth touched to a relic of Blessed Dominic (Barberi) of the Mother of God, Passionist. Image of the Saint on the ...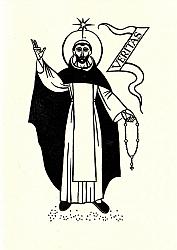 Card, Saint DominicCode: P0231 Price: £2.50
St Dominic Card, designed and made by Benedictine monks: Blank for your own message


Saint Dominic Statue, 12 inch plasterCode: S0746 Price: £90.00
12" (30 cm) plaster statue of St Dominic, depicted with the rosary. Hand-made and individually hand-painted in the UK, with gold highlights.